ECSI CPR/AED/First Aid: Hybrid : 4.00-3.00 Hours
Course Description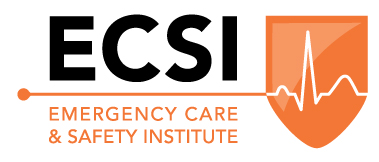 Course Details:
The ECSI, CPR, AED, and First Aid Hybrid class teaches the skills involved in CPR (adult, child, and infant), AED usage, and several First Aid topics. First Aid topics include traumatic emergency (bleeding control, splinting, etc.), medical emergency (chest pain, seizure, etc.), and environmental emergency (heatstroke, hypothermia, etc.).
While this course goes over the same material as our In-Person Course, the hybrid course allows students to go through the online portion at their own pace. The online portion offers an interactive format which typically takes 3 hours. Upon completion of the online portion, students will come together for an in-person practice and skills test out (~1.5 hours)*.
*Students must complete the entire online course prior to attending the in-person session. Any student who fails to complete the entire online portion and receive their certificate prior to this course will not be allowed to participate in this class and will not get certified.
Registration and Payment:
Group Registration:
Registration: Organizations or departments interested in creating a group class must email illinimedservices@illinois.edu After completion of a course agreement, a private class will be set up. Each student will receive a code to complete the online portion of the class at their own pace (interactive format ~3hrs) and then the whole group will come in together for an in-person practice and skills test out (~1.5hrs).
Payment: The organization or department that sets up the class will be billed through their CFOPAL number for the whole group. The cost is $30/student.
Cancellations:
If individuals in the group should choose to cancel their participation in the CPR class, please have them e-mail IEMS at illinimedservices@illinois.edu and let us know as soon as possible. IEMS reserves the right to still charge for that person if they do not notify us in writing at least 24 hours before the class begins.
COVID-19 Safety Notice:
All students and instructors will be required to:
- Wear a face-covering upon arrival at class location
- Maintain 6 feet distancing
- Screen themselves for symptoms and temperature at the entrance of the class
- STAY HOME and RESCHEDULE if experiencing any potential symptoms** of COVID-19 or had recent contact with an infected individual
How will the course be modified?
- Each class will be capped at 6 students to ensure enough space to socially distance
- Each student will receive individual equipment and be offered a pair of disposable gloves if desired
- All equipment will be thoroughly decontaminated before and after each student
- No mouth-based ventilations will be practiced; rather, a Bag Valve Mask (BVM) will be used
- All procedures (with the exception of CPR) will be performed on oneself
---
Audience
Groups looking for First aid/AED training
---
Prerequisites:
There are no prerequisites to taking this course
---
If you have specific questions about this course contact LAURIE BRAUER
If you are interested in having this course taught in your area, contact LAURIE BRAUER or your regional representative.
If you are not sure who your regional representative is, take a look at this map. It is color coded by county.